MCT OIL – Brain & Body Fuel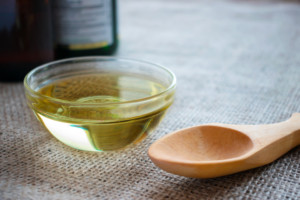 MCT Oil is a brain power boosting and hunger reducing energy source when you're on a very low carb diet (paleo, keto, etc.) or while fasting. It has other health benefits as well.
Medium chain triglycerides are turned into ketones very quickly and serve as a healthy, clean and readily available energy source for the brain, heart and body.
Your brain utilizes ketones as a primary fuel over glucose, so you will often quickly notice an improvement in brain function after taking MCT oil.
If you're on a ketogenic or low carb diet, MCT oil can be helpful for getting you through the day and eliminating fatigue or brain fog. It can also help you make a smoother transition to a ketogenic state at the start of the diet.
MCT Oil is also the perfect natural energy source for exercise. Take it about a half hour before exercising for an energy boost to get you through a challenging workout. It's also excellent for supplementary energy before or after intermittent fasting.
MCT oil can be naturally found in coconut oil in small amounts. This is a concentrated version of these beneficial oils that can be easily added to beverages like coffee, smoothies or a range of foods.
Other Health Benefits
Do you have cardiovascular or brain function symptoms?
Those who have cardiovascular illnesses or brain function problems may benefit from adding MCT oil into their diet because ketones may help reduce symptoms and nourish healthy tissue. Brain function improvements can often be quickly noticed after consuming MCT oil.
Learn More and Order MCT Oil
(You can purchase via Amazon Pay)Do you want a 10% discount?   Instructions:  On the left, choose "One Time Purchase" and number of bottles you want. Then click "Add to Cart" and "View Cart". Scroll down to "Coupon Code" and use the down arrow. Then Scroll down to the link "I have another coupon code" and click the link.  Then use MCVITAMINS as the code and click "Apply Discount"  The discount appears and you can then "Check Out"  (You can purchase via Amazon Pay)
STILL HAVE QUESTIONS? EMAIL AND GET YOUR QUESTIONS ANSWERED.
Sign up to receive the MCVitamins Newsletter!
Up-to-date info on the latest health-related news happening in the world
(available in English only)