Amazing New Energy Drink – Real Immediate Energy with No Energy Drop-off
Here are just a few of the stories from our customers
who are using the
RHP® Real Energy Drink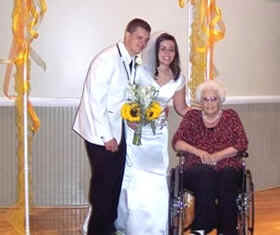 My Mother, Lena Bartholomew has had neuropathy for 15 years or more. She was in such pain when we brought her to live with us 5 years ago; we thought she would not make it only a few months. She did not want to live either for my father died shortly after she came.
"She has been on the nerve support formula since January, and her pain has improved; now she can walk in the house at least 3 or 4 times a day. We take her to church each Sunday with no complaint.
"I feel this has been a big blessing, before she was complaining and it would take 10 minutes for her to walk with the walker to the bathroom. Now it only takes about 2 minutes.
"A great Granddaughter, Samantha Justvig just got married on June 19th and since we had tried some of the new Energy Drink (only about 2 tsp. a day), I decided to give her a whole capful. Instead of sleeping through the ceremony, she was wide awake, and she was so alert and cheerful and aware of everything all day, even through the reception that evening. Everyone that saw her told her she looked 10 years younger; and what's more, she acted 10 years younger also.
"Mom has 38 grandchildren, 104 great grandchildren, (3 more on the way by the end of the summer.) Also 2 great, great grandchildren. She did so well on Saturday, that I tried the capful on Sunday with the same result. Alert, aware all day. She was happy too.
"I decided her life is so much better with the energy boost, I have ordered it every month.
"*Mom had been sleeping most of the day, and now she can be alive again.
"Thank you sincerely."
From Anna Lee C. in Utah
"I never realized how much coffee was reducing my energy level in the mornings, until I started using Real Energy every morning in place of coffee.
"Real Energy gives me a nice clean energy. Similar to how I feel after waking up in the morning after having a good night's sleep, but it lasts all day long. I also feel more mental alertness and mental clarity as well.
"I still enjoy my coffee, but now it's more of an occasional treat rather than a daily necessity."
From Larry M. in California
"It was great. My husband is also using it. I ordered 2 bottles so that would not run out. It gives me a overall well feeling. I missed one day because I just did not get around to it. Boy, did I notice the difference! So I did not make that mistake again. I am loving the "Real Energy". I do feel it on the days I forget to take it."
From Nellie B. in Georgia
These are what others have found to be true. You can try yourself to find out if this is true or not for you? – there is a 90-day money-back guarantee.
STILL HAVE QUESTIONS? CALL 818 252-1039 OR EMAIL AND GET YOUR QUESTIONS ANSWERED.
Ready to Order?
Order the RHP "Real Energy" Drink via our Secure Server (all types of credit card accepted) or PayPal.
Or call to order 818 252-1038
Return to Real Energy Drink
Sign up to receive the MCVitamins Newsletter!
Up-to-date info on the latest health-related news happening in the world
(available in English only)