Cleaning with Essential Oils
Cleaning without Toxins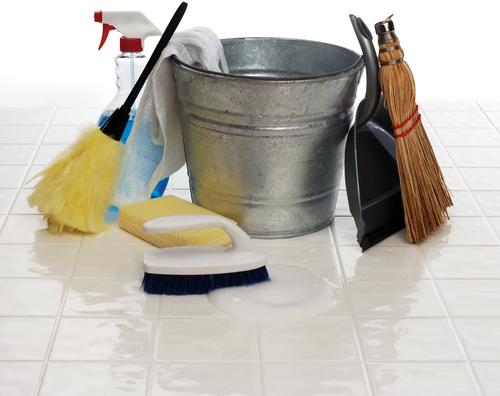 Cleaning without Toxins
Would you like a cleaning product without toxins that is also antibacterial, antifungal and antiviral? It is cleaning using 5 essential oils.
How good is this blend of oil?
THIEVES, how it got its name.
The concept behind Thieves oil is based on the legend of four 15th century (1400s) French thieves. Although they spent their days robbing sick and dying people, they managed to escape contracting the plague and other such nasty diseases. Legend has it that they doused themselves with a special herbal concoction to protect themselves from infection – sometimes referred to as "four thieves' vinegar".
Back in the time of the Plague in the 1400s, authorities noticed that thieves were stealing items from the homes of the those with the plague. This puzzled them because everyone that came in contact with someone with the Plague also died. They couldn't figure out how these thieves were staying alive after being exposed to the Plague. Once caught, the magistrate offered the thieves leniency if they would explain how they were able avoid contracting this deadly disease. It turns out that these thieves were perfumers and spice traders who knew what to use to avoid getting the disease. Hence the name "thieves" was born.
Your Health and the Toxins in Cleaning Supplies
Good health depends on not putting lots of toxic chemicals into your body. Toxins can get into your body via the skin or by breathing in the fumes.
Have you checked your cleaning supplies?
Most likely you have chemicals in the cleaning supplies you have in your cabinets. This exposes you to toxins. When your cleaning leaves a strong, chemical scent it is not good. Sometimes there is heavy perfume to cover up the scent of the chemicals and that is not so enticing either.
Now if you had a cleaner that not only had a fresh scent due to what it is made of but worked well that would be great.
This is the inviting scent of Thieves® Household Cleaner.
Formulated with Young Living's Thieves oil blend, you can get a deep clean without dangerous or synthetic ingredients.
Chores will feel like less of a chore with the effective cleaning power of Thieves Household Cleaner.
I realized when I started using this cleaner that I enjoyed cleaning where before it had been not only a real chore and one I didn't want to even start. The chemicals even in the natural cleaners I bought were heavy and made me feel badly. I hadn't even recognized this until I started cleaning with Thieves.
This all-purpose cleaner can be used on any surface in your home for dusting, spot cleaning, scrubbing, or any other cleaning need.
It's safe to use around everyone in your family and friends, including pets.
Here is more about Thieves® Household Cleaner – it is very economical a few drops go a long way. These products are very concentrated and last about 3 X as long as a normal bottle of cleaner.
For plant medicine. Go to Essential Oils to find out more
There are many oil companies and many buy their oils from the distiller so they have no control over the quality of seeds, how they are cultivated and harvested. Also there is no way of knowing whether they are pure essential oils in the bottle because FDA does not require all ingredients in the bottle to be on the label.
Any questions? Email or call 818 252-1038
We are here to answer questions and assist you to use the oils.
Sign up to receive the MCVitamins Newsletter!
Up-to-date info on the latest health-related news happening in the world
(available in English only)