Dr. Berg's Hair Formula – Ingredients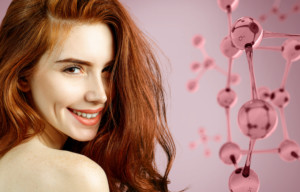 INGREDIENTS NEEDED FOR HAIR GROWTH and why
BIOTIN
Biotin is the key B-vitamin that improved the structure of keratin, which is the protein that makes hair. In order to make hair, you need both collagen and B-vitamins. Biotin is one of the B-vitamins that plays a key role in the creation of hair and other proteins.
VITAMIN C COMPLEX
Our whole food vitamin C complex sources from Acerola Cheeries provide the complete vitamin C complex. Vitamin C is crucial and necessary aid in making collagen to rebuild hair. Most vitmain C sold is synthetic. The acerola cherry is one of the highest sources of vitamin C.
B- VITAMINS
Biotin is not the only vitamin involved in hair growth. Vitamin B6 and others are intimately involved. Take a whole food complex of B-vitamins as in nutritional yeast will provide the best approach to ensure your body has all it needs in regrowing hair. Most B-vitamins sold are synthetic. Talking nutritional yeast can give you the natural version.
TRACE MINERALS
Trace minerals are minerals needed in small amounts. Taking a complex of most of these minerals can help support hair growth. Some people lose hair due to a loss of minerals, specifically trace minerals. Trace minerals aid is the formation of proteins and your hair is protein. Our ConcenTrace® AC minerals is a complex of more than 72 ionic trace minerals that were harvested, concentrated, dehydrated and put through a proprietary granulation process. These minerals are 100-percent soluble, carrier-free, natural, non-GMO, certified vegan and gluten-free.
SILICA
The source of the mineral silica is horsetail. This plant provides a food based complex of minerals, nutrition and the mineral silica. This mineral is involved in the stregthening process of hair, nails and skin. Silicon provides the body material for beautiful silky hair, soft skin and perfect nails. We are born with lots of silica but as we age we lose this element. One of the biggest components of collagen is actually silica.
STINGING NETTLE ROOT EXTRACT
Stinging nettle root has a unique property of blocking a powerful type of testosterone in both men and women called DHT. This testosterone can block the nutrients in the hair root. Stinging nettle root helps support healthy hair grown from another angle.
WILD CAUGHT FISH COLLAGEN
Our wild caught fish collagen slows hair loss and thickens fine hair. Wild-caught means not farm raised. This is a much healthier source of protein. We extract the collagen from the scales of fish, which contains a high quality bioavailable source.
The word collagen is derived from kolla, the Greek word for glue. Collagen is the primary protein in the body more than 90% of the total collagen found in the body is Type I&III. It is an essential and major component of muscles, tendons, cartilage, ligaments, bones, gums, teeth, eyes, blood vessels and HAIR.
As we age levels of amino acids (protein building blocks) our body needs to make collagen protein are reduced so there is insufficient new collagen to keep hair, skin, joints, and other parts of the body healthy. Our wild caught fish collagen is a natural rejuvenating source that replenishes the body's own collagen supply and provides nutrients to re-build hair.
Our wild caught fish collagen through an enzymatic hydrolysis process and is pre-digested into components with a low molecular weight amino acids for optimal absorption and utilization by the body. Studies have shown that collagen peptides can provide benefits for healthy beautiful hair.
Amino-acid (g/100g protein) Wild Caught Fish Protein
Alanine 8.2
Arginine 8.7
Aspartic acid 5.0
Cystine 0
Glutamic acid 11.3
Glycine 20.4
Histidine 1.3
Hydroxylysine 1.5
Hydroxyproline 10.3
Isoleucine 1.5
Leuicine 2.6
Lysine 3.4
Methionine 0.8
Phenylalanine 2.3
Proline 12.4
Serine 3.4
Threonine 2.7
Tryptophan 0
Tyrosine 0.4
Valine 2.0
Wild Caught Fish Collagen is particularly rich in:
Hydroxyproline
A major component needed to produce collagen cells for a healthy body
Alanine
Supplies energy to muscle tissues, brain and central nervous system and strengthens immune system through its effect on antibody production
Arginine
Helps immune system stimulation and healing process
Glycine
Triggers the release of the oxygen required by the cell-making process
This product has a 60 day money back guarantee.
Try any of Dr. Berg's products for 60 days, 100% risk free
Back to Dr. Berg's Hair Formula
STILL HAVE QUESTIONS? EMAIL AND GET YOUR QUESTIONS ANSWERED.
Sign up to receive the MCVitamins Newsletter!
Up-to-date info on the latest health-related news happening in the world
(available in English only)