Hair Loss in Males & Females – Treatment of Hair Loss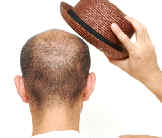 At one time the only hair-loss products were for men – but now I've seen commercials about women and their in-active follicles.
When someone finds that their hair is thinner due to hair loss, they want something.
There is hair loss due to aging and hair loss due to other body problems.
First let's look at a short lecture on the Cause of Hair Loss due to problems with different glands.
The Cause of Hair Loss
What happened right before hair loss? A clue to fixing the problem
Dr. Berg's Hair Formula
Re-grow Strong and Beautiful Hair!
Improve Your Body Collagen & Have Strong Nails and Youthful Skin!
Feed & Replenish Hair Nutrients!
The Ultimate Hair Formula (Vitamins, Trace Minerals & Herbs)
It has a:
Complete Formula of vitamins, trace minerals, collagen and herbs
Replenish hair vitamin nutrients so it can grow and become strong!
Stop hair loss and support brittle and split ends!
Contains a natural DHT blocker for supporting hair loss!
Cutting edge hair growth stimulating formula.
Uses a high quality fish scale proteins from wild caught fish.
Powerful vitamins, minerals, trace minerals and herbs.
Dr. Berg's Hair Formula – Get a full head of lustrous hair.
Read More Dr. Berg's Hair Formula
Sign up to receive the MCVitamins Newsletter!
Up-to-date info on the latest health-related news happening in the world
(available in English only)