Kid's Chewable Multivitamins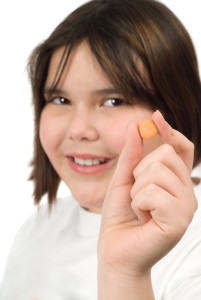 Support your child's growth and immune system function with Dr. Berg Kids Chewable Multivitamin with vitamin D and essential trace minerals.
Dr. Berg Kids Chewable Multivitamin is loaded with whole-food nutrients—supplying 18 essential vitamins and minerals along with our unique trace mineral complex. This formula is made with real berries and vegetables, which contain not only vitamins and minerals, but also provide powerful phytonutrients.
Kids Chewable Multivitamin highlights:
Whole-food nutrients
No added sugar
18 vitamins and minerals and a trace mineral complex
1,000 IU of vitamin D3
Fun and easy chewable wafers
Supports energy production
Promotes healthy eyes and vision
Boosts concentration and memory
Supports growth and development
30 servings per container
30-day money-back guarantee
Kids Chewable Multivitamin is excellent for immune function, eye health, nervous system function, energy, brain development, and growth. It's made with natural mixed berry flavors and sweetened with monk fruit, so you don't have to wonder if your child is ingesting artificial flavors or harmful chemicals.
Kids Chewable Multivitamin is a fun and easy way to help your child meet their daily nutrient requirements!
Supplement facts
Amount per serving % Daily Value
Vitamin A (as beta carotene from carrots) + 100 IU(29 mcg RAE) 3%
Vitamin C (From Orange, strawberry, broccoli, apple and Acerola Cherry) + 54 mg 60%
Vitamin D3 (as Ergocalciferol from Mushroom and Cholecalciferol) 1000 IU ( 25 mcg) 125%
Vitamin E (From Cranberry, Tomato, Broccoli, Spinach and D-Alpha Tocopheryl Succinate) + 8 mg (12.65 IU) 53%
Vitamin K (From Spinach) + 20 mcg 16%
Vitamin B1 (From beet) + 0.25 mg 20%
Vitamin B2 (From Spinach, broccoli, blueberry, Orange and Riboflavin) 1.8 mg 145%
Vitamin B3 (From Carrot, Tomato, Mushroom and Niacin) 15 mg 100%
Vitamin B6 (From Spinach, Broccoli and Pyridoxal-5-Phosphate) 2 mg 118%
Vitamin B9 (From Spinach and 5-Methyltetrahydrofolate Calcium Folate ) 416 mcg DFE 104%
Vitamin B12 (as Methylcobalamin) 2 mcg 83%
Vitamin B7 (Biotin) 104 mcg 347%
Vitamin B5 (From Mushroom and Orange and D-Calcium Pantothenate) 7 mg 140%
Iodine (from Sea Kelp (laminaria digitata)) 70 mcg 47%
Zinc (from Zinc Amino Acid Chelate) 6 mg 56%
Manganese (from Manganese Amino Acid Chelate) 1.6 mg 70%
Potassium (from Potassium Glycinate) 36 mg <1%
Cardiomegia ™ Sea buckhorn fruit extract (Supercritical CO2 extract with 14% Omega 7) 50 mg **
Trace Mineral Complex 5 mg **
Proprietary whole food blend (spinach, broccoli, carrot, beet, tomato, shiitake mushrooms, apple, cranberry, orange, blueberry, and strawberry) 113mg **
*Percent Daily Values are based on a 2000 calorie diet. Daily Value established for children 4 and over.
** Daily Value not established.
+ From whole food blend
Other Ingredients: Erythritol, Silicified Microcrystalline Cellulose, Arabic Gum, Natural Mixed Berries Flavor, Magnesium Stearate (Vegetable Source), Stearic Acid, FCC (Food Grade), Organic Stevia Reb A 98%, Monk Fruit.
Health Benefits
Supports healthy growth and development
Vitamin C, vitamin A, zinc, and iodine help support normal tissue growth, and vitamin D and calcium promote healthy bones and teeth.
Promotes healthy immune function
Zinc and vitamins A, C, D, and E are powerful immune-supporting nutrients that help children stay healthy all year round.
Boosts energy and supports a healthy brain
B vitamins are essential for maintaining a healthy brain, supporting nervous system function, converting food into energy, and building healthy red blood cells.
Supports healthy vision
Natural fruit and vegetable nutrients—including beta carotene, B vitamins, vitamin C, and vitamin E—are crucial for developing and maintaining healthy eyes and vision.
A natural multivitamin for kids!
Kids Chewable Multivitamin is made with natural whole foods, including strawberries, oranges, blueberries, spinach, broccoli, sea kelp, and acerola cherry. Whole foods also contain a wide range of phytonutrients that help promote a healthy body.
Kids Chewable Multivitamin is a fun and easy way to support your child's health.
Kids Chewable Multivitamin is right for you if…
You have a growing child
You want to support brain development and mental focus
You want to promote healthy immune system function
You want to support healthy eyes and vision
You need a fun and delicious way to support your child's daily nutrient intake
30-Day Money Back Guarantee.
RISK FREE! Contact us within 30 days and we will refund you, no questions asked!
Learn more including the sources of the Vitamin C and 
This product has a 30 day money back guarantee.
Try any of Dr. Berg's products for 30 days, 100% risk free
STILL HAVE QUESTIONS? EMAIL AND GET YOUR QUESTIONS ANSWERED.
Sign up to receive the MCVitamins Newsletter!
Up-to-date info on the latest health-related news happening in the world
(available in English only)