Dr. Berg's Liver Cleanse, Detox Repair Support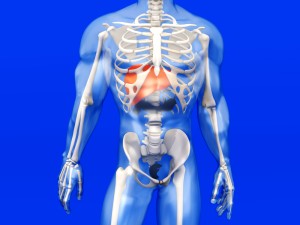 Support liver repair and detoxification with Dr. Berg Liver Cleanse, Detox Repair Support. This unique formula is packed with eight incredible nutrients that promote your body's natural detoxification process. This is the perfect formula for you if you want a full liver reset. Each bottle contains 60 potent capsules.
The liver is the primary organ your body uses to remove toxic waste. Regular exposure to plastics, pesticides, herbicides, air pollution, and other chemicals cause your liver to work overtime. To make matters worse, the average Western diet is loaded with foods that fill your liver with fat, slowing down the natural detoxification process and leading to the buildup of toxins in fat cells.
It's virtually impossible to avoid everyday toxins. That's why it's important to support your body's detox organs—especially the liver.
DETOX REPAIR SUPPORT
Liver Cleanse is our solution to everyday toxin exposure. It's packed with eight incredible nutrients that work synergistically to give your liver a full reset. If you've been neglecting your liver and want to give it the support it needs, you're going to love Liver Cleanse.
Unlike many liver cleanse supplements, our product helps you deal with the root of the problem. Liver Cleanse supports the natural processes that transport fat out of your liver, so your detoxification system works as it should. It also helps minimize the effects of environmental toxins and stressors to give your liver time to repair naturally.
SUPPLEMENT FACTS
Folate (as 5-methyltetrahydrofolate) 260 mcg
Proprietary blend 845
Choline bitartrate, milk thistle extract (Silybum marianum), ox bile extract, SAM-e (S-adenosylmethionine), turmeric root extract (95% curcumins),
coenzyme Q10, astaxanthin, Bioperine® black pepper extract (95% piperine)
Other ingredients: Microcrystalline cellulose, vegetarian capsule, silicon dioxide
EIGHT POWERFUL INGREDIENTS WITH UNIQUE LIVER-CLEANSING PROPERTIES
Clean out toxins with ox bile extract
Bile—which is produced by the liver—is the body's primary way of eliminating harmful substances like drugs, environmental pollutants, and heavy metals. It also helps flush out bilirubin, a toxic waste product formed when red blood cells are broken down. Supplementing ox bile can help reduce the liver's workload.
Reduce liver fat and increase energy with choline bitartrate
Choline bitartrate helps transport fats out of the liver to other parts of the body. This function helps reduce liver fat, provide energy to your body, aid in metabolism, and create vital neurological proteins.
Lower inflammation with milk thistle
Milk thistle is rich in a powerful compound called silymarin, which can help reduce inflammation. Maintaining normal inflammation levels is important for supporting your liver and the detoxification process.
Reduce oxidative stress with astaxanthin
Oxidative stress can slow down liver function. Astaxanthin, derived from salmon, is one of the most potent antioxidants found in nature. Its antioxidant effects are 65 times stronger than vitamin C.
Boost mitochondrial function with coenzyme-Q10
Mitochondria are the energy factories of the cells. Without normal liver cell mitochondrial function, your liver can't operate optimally. Coenzyme-Q10 naturally helps improve the mitochondrial function in your liver cells.
Support natural bile flow with turmeric
Turmeric is a powerful herbal root that can reduce liver and bile duct inflammation, supporting the normal flow of bile. We add Bioperine® black pepper extract to boost the bioavailability of turmeric.
Reduce heavy metal toxicity with SAM-e
S-adenosyl-L-methionine (SAM-e) helps restore liver glutathione; the most powerful antioxidant made by the human body. Glutathione removes free radicals and neutralizes heavy metals that can build up in the liver.
Support vital liver-supporting nutrients with 5-MTHF Save
5-methyltetrahydrofolate (5-MTHF) is a biologically active form of folate that helps reduce the risk of folate deficiency, which is associated with a fatty liver.
STILL HAVE QUESTIONS? EMAIL or Call 818 252-1038 AND GET YOUR QUESTIONS ANSWERED
Sign up to receive the MCVitamins Newsletter!
Up-to-date info on the latest health-related news happening in the world
(available in English only)