Recipes designed to fit in with the holidays, so you don't feel deprived.  Low Carb recipes.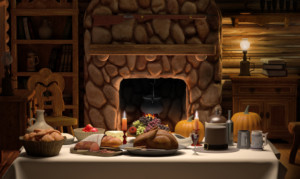 MENU
Holiday Stuffing Recipes
Ingredients:
9 ounces crushed pork rinds
2 eggs, raw
2 eggs, hard-boiled and coarsely chopped
1 medium onion, chopped
2 stalks celery, diced
1 tablespoons poultry seasoning
Black pepper to taste
1-2 cups chicken broth, with chicken fat not removed or melt a stick of butter into the broth
Instructions:
Sauté onions and celery in some chicken fat until clear. Set aside in a large bowl. Combine the Pork Rinks, poultry seasoning and black pepper, Mix well.
Start adding chicken stock until it is moistened, but not soggy. This should be the consistency of raw cake batter. Add more chicken broth if needed.
When Dressing is at the right consistency, fold in the chopped eggs and pour into a 9 x 13" greased baking pan and bake at 350° F for approx. 45 minutes.
Watch out for browning. The dressing is done when you touch the center and it springs back lightly like a cake. Don't let it get too brown or it will be dry.
Low-Carb Holiday Eggnog
6 Eggs, slightly beaten
10 – 12 Packets of Stevia
1/2 teaspoon salt
5 Cups heavy cream
1 Teaspoon vanilla
1/4 to 1 cup light rum (optional) or 1 teaspoon rum extract
Nutmeg
In large saucepan, combine eggs and salt. Stir in cream. Cook over low heat, stirring constantly until the mixture thickens and coats the spoon. Turn off heat, stir in the Stevia and vanilla. Cool; refrigerate immediately. At serving time, pour into a serving bowl. Stir in rum or rum extract and sprinkle with nutmeg. Makes approximately 12 – 16 (1/2 cup) servings at approximately 3 carbs per 1/2 cup serving
Cheese Log Recipe
Ingredients:
1/2 lb New York Sharp Cheese
1/2 lb Pimento cheese
1/2 lb Cream cheese
2 Garlic cloves
2 teaspoons Worcestershire sauce
1/4 teaspoon Red pepper
2 tablespoons Mayonnaise
1/4 teaspoons salt
Instructions:
Grate cheese. Add all ingredients, chill a little and divide into thirds. Roll in paprika. Can be frozen.
Mashed "Potato" Recipe
Ingredients:
8 Cups cauliflower florets or a small head of cauliflower
1/4 cup ranch dressing
1 green onion thinly sliced
Instructions:
Bring water to boil in large saucepan.
Add Cauliflower, cook 15 minutes or until cauliflower is very tender.
Drain cauliflower, add dressing and mash until cauliflower is light and fluffy. Sprinkle with onions. Serve.
Makes 8 1/2 cups servings has 50 calories per serving and 6g of Carbohydrates
Garlic Mashed "Potatoes"
Ingredients:
1 medium head cauliflower
1 tablespoon cream cheese, softened
1/4 cup grated Parmesan
1/2 teaspoon minced garlic
1/8 teaspoon straight chicken base or bullion
1/8 teaspoon freshly ground black pepper
3 tablespoons unsalted butter
Instructions:
Boil water over high heat.
Cut cauliflower into small pieces. Cook in the boiling water for about 6 minutes, or until well done.
Drain well; do not let the cauliflower cool but pat it very dry between several layers of paper towels.
Use a food processor on pulse and add the hot cauliflower, cream cheese, parmesan, garlic, chicken base, and pepper until almost smooth.
Serve hot with pats of butter.
Giblet Gravy Recipe
Ingredients:
Giblets and turkey neck
1 stalk celery with leaves, chopped
2 bay leaves
1/2 small onion, thinly sliced
1 teaspoon salt
1/4 teaspoon pepper
Instructions:
Separate liver from giblets and refrigerate in Ziploc bag. Put remaining giblets and turkey neck in large saucepan and cover with 6 cups water. Add veggies and spices.
Bring to a boil then reduce heat and simmer covered for 2 1/2 hours.
Add liver and cook 15 minutes more.
Remove giblets from liquid. Remove bay leaves, then liquefy in blender with veggies.
Chop giblets and add to liquid. Heat and add additional
Salt and pepper to taste.
Serve as a thin "au jus" over turkey and dressing, or continue to cook uncovered to reduce the volume down further.
About 10 carbs in the entire recipe.
New York Cheese Cake Recipe
Ingredients:
24 ounces cream cheese, softened
1 cup extra-fine whole milk ricotta cheese (refine – put in a food processor for 1 minute)
1/2 cup sour cream
1 1/2 cups sugar substitute (See: Stevia Exchange Amounts)
1/3 cup heavy cream
1 tablespoon vanilla extract
1 tablespoon fresh lemon juice
2 eggs
3 egg yolks
Instructions:
Preheat oven to 400 degrees F.
You need to put a cake pan into 1″ of water to make this type of cake. It needs to sit in the middle of the oven. You thus need a cake pan and another pan (roasting pan, etc) where you can put 1″ of water in it and its big enough to hold the cake pan.
In the bowl, use a mixer to beat softened cream cheese, ricotta, sour cream and "sugar substitute" on low speed for about 1 minute until well blended.
Using a wire whisk, mix heavy cream, vanilla, lemon juice, eggs, and egg yolks until blended.
Turn the mixer on medium speed, and slowly pour the egg mixture into the cream cheese mixture. Beat just until blended. Do not over-whip.
Pour batter into the cake pan. Place pan into the heated "water bath". Bake for 15 minutes.
Lower the oven temperature to 275 degrees F. Continue baking for 1 1/2 hours. It will be done with the top is light golden brown and cake is pulling away from the sides of the pan.
Turn the oven off when finished cooking and leave the cake in the oven to cool for 3 more hours. (This will allow cake to keep its height)
Then remove cake and refrigerate before serving.
Serve chilled.
The entire cake is 46 carbs. 8 servings – 4.5 carbs/serving.
Pumpkin Dessert Recipe
Ingredients:
1 cup whole milk ricotta
2 packets Stevia
1/2 tablespoon pumpkin spice
1/4 teaspoon nutmeg
1/4 teaspoon cinnamon
Whipped cream
Instructions:
Mix it together with a spoon. Make whipped cream topping.
1/2 cup servings – 5 carbs
French Silk Pie Recipe
Ingredients:
1/2 cup butter, softened
16 packets Stevia
2 oz unsweetened baking chocolate
1 teaspoon vanilla
2 eggs
Instructions:
Cream butter and Stevia together.
Melt chocolate and blend into butter mixture when cooled. Stir in vanilla. Mix eggs and add them to the mixture.
Beat well with mixer until smooth. Chill 1-2 hours minimum. Top with whipped cream, if desired.
4 Servings.
Sign up to receive the MCVitamins Newsletter!
Up-to-date info on the latest health-related news happening in the world
(available in English only)