What is Maskne (Acne Mechanica) and What Can You Do About it?
Maskne is a real thing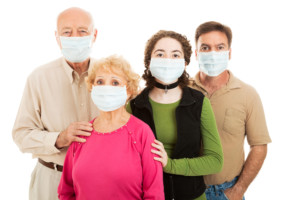 With so many people now wearing masks for extended periods of time, a form of acne caused by the friction and pressure of the mask on the skin has become an unwanted problem for many. It's called Maskne.
You shouldn't have to suffer with:
Pimples
Whiteheads
Spots and bumps
Blackheads
Redness
Skin rash
If you are suffering with skin problems caused by wearing a mask you may have spent hours researching solutions and tried different products in the hope of finding something that would improve your skin.
You may have felt embarrassed because of your skin condition and it may have affected your self-esteem and quality of life.
There is hope for Maskne.
The scientific name for Maskne is Acne Mechanica. It's well known to people in professions that require wearing a mask. Combined with the friction and pressure of the mask, sweat and oil trapped under the mask can clog pores and facilitate the growth of bacteria, leading to blackheads, whiteheads, or pimples on the areas of the face covered by a mask (chin, nose, checks, and around the mouth.)
More and more people are now finding they have Maskne.
What most people don't know about acne?
Inflammation is an underlying cause of acne
Inflammation is at the core of most health issues. Unresolved, chronic inflammation is a feature of a wide range of health conditions, particularly skin conditions, including acne and Maskne.
Acute inflammation is a necessary, protective response of the body to adverse stimuli, like irritants, or damaged cells due to injury. Acute inflammation lessens when the stimulus is removed. In contrast, chronic inflammation is an ongoing response to stimuli that doesn't end and the longer it continues the more it causes cellular damage.
The secret to handling skin conditions is to address the chronic inflammation of the body at the cellular level.
Treating Maskne from the Inside
Skin Repair Solution for Maskne
If you have Maskne it is very likely you have chronic inflammation in the body. Most people try to handle their skin condition with a topical solution. Creams, gels or lotions don't always deliver the desired result.
Skin conditions need to be addressed from the inside as that's where the chronic inflammation is happening.
Introducing Inflammation Relief – the supplement that comes from the latest research into the bioactive ingredient that reduces chronic inflammation and helps skin conditions.
Inflammation Relief comes from the latest research into olive polyphenols
What are polyphenols?
Polyphenols are natural bioactive compounds, naturally present in fruit, vegetables and other plants, which are known for their anti-inflammatory, antioxidant and anti-bacterial properties.
The polyphenols in olives have a very high level of antioxidant (free radical scavenging) activity. This means they are very effective in the fight against the damaging effects of free radicals on cells and body tissues thereby reducing inflammation.
What are the ingredients in Inflammation Relief?
Olive Fruit Oil (Olea Europaea)
Inflammation Relief contains 200 mg of Organic Olive Phenol Extract from olive fruit oil. Not just any olive oil, the proprietary formula of olive oil in Inflammation Relief contains almost 40 antioxidant properties to protect skin cells and tissues.
Cellulose
Helps fruits and vegetables release antioxidant compounds in association with enzymes.
What can I do about chronic inflammation?
The good news is that you can do something about chronic inflammation. Eating plant-based whole foods will help. Taking a plant-based supplement designed to have a powerful, positive impact on inflammation will provide extra anti-inflammatory support.
What can Inflammation Relief do?
Inflammation Relief can help reduce inflammation in skin cells and body tissues. As inflammation is at the core of skin conditions it helps improve a wide range of skin problems.
Why is Inflammation Relief effective?
Inflammation Relief is a totally natural proprietary formula of olive polyphenols extracted from the pulp of fresh, organically grown olives (Olea Europaea).
Each capsule delivers double the concentration of olive polyphenols and sets a new high bar for a dietary supplement due to its bioavailable antioxidant polyphenols, as much as 8 to 12 ounces of extra virgin olive oil without all those calories.
Ingredient backed by clinical studies*
There are numerous studies supporting the benefits of olive oil and olive polyphenols. These can be found on PubMed.gov
Inflammation Relief can improve your skin, whether you are suffering from blackheads, whiteheads, pimples, spots, bumps, redness or a skin rash.
Every cell has a turnover rate. Skin cells are replaced every 30 to 40 days, depending on your age. It you start doing things now to impact the health of your cells, the new version of these cells is going to be better than the last.
Inflammation Relief – An Exclusive Formulation from Qgenics
Contains a potent ingredient backed by clinical studies*
Shown to reduce inflammation
Effective skin repair at the cellular level
Proprietary formula exclusive to Qgenics
All natural, organic, GMO-free, gluten-free, vegan and Keto-friendly
Highest-quality ingredient sourced, lab-tested, and produced in a GMP (Good Manufacturing Practice) facility in the USA.
* See clinical studies
Now 25% Off the Regular Price. Learn more about Inflammation Relief and Order
STILL HAVE QUESTIONS? EMAIL AND GET YOUR QUESTIONS ANSWERED or call 818 252-1038
Sign up to receive the MCVitamins Newsletter!
Up-to-date info on the latest health-related news happening in the world
(available in English only)