Metabolic Boost – Targeted Nutrition at a Cellular Level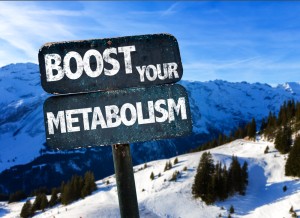 If you have high blood pressure, high blood glucose, insulin resistance, high cholesterol, excess weight around the waist you have a metabolic disorder – an imbalance or deficiency – that negatively affects the way your body functions.
This also means you have an increased risk of a serious health condition if you have 3 or more factors this is commonly referred to as Metabolic Syndrome and your risk increases even more. You are not alone.
Metabolic Syndrome is increasingly common and up to 30% of U.S. adults have it and about 44% of people over 50 years of age are affected by it. Every 5 seconds someone is diagnosed with a condition caused by metabolic disorder and every 10 seconds somebody dies from a metabolic health issue. It is one of the most important health challenges we currently face.
Metabolic Boost is a new generation of adaptogenic (an agent that support one's energy and ability to better handle stress). Metabolic Boost is a plant-based formula with ingredients that support processes within the cells but also help to control them, thereby creating a healthy metabolic system for a healthy body.
Metabolic Boost can provide these benefits:
Normalize metabolism
Reverse insulin resistance
Lower blood sugar
Promote healthy weight loss
Support normal cholesterol and triglycerides levels
Support healthy digestion and gut health
Increase energy by regenerating the mitochondria, the energy "powerhouse" in every cell
Empower the immune system with increased antioxidant support.
"I've had a lot of digestive issues. and frequent hunger at inopportune times.  With only one teaspoon of MetabolicBoost in my smoothie at lunch I don't have any hunger between lunch an dinner.

I also found that MetabolicBoost helps with my problem of  waking up a lot at night.  Apparently, my sleep issue is related to metabolism.  Ig love this product! "

Anne H., Florida
Metabolic Boost is a powder formula that makes a pleasant-tasting drink. It's an easy, convenient way to provide your body with the comprehensive nutrition it needs to function at its best.
Omega 3, Turmeric (Curcumin), Ashwagandha, Milk Thistle, Banaba, Choline, Probiotics, and PQQ are just a few of the natural, potent ingredients in this proprietary formula.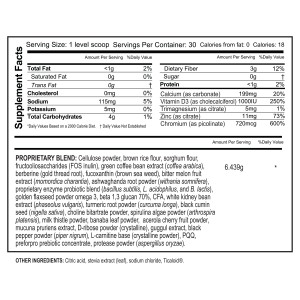 Among the many ingredients in this formula providing superior health support is an extra special one, natural PQQ, pyrroloquinoline quinone. PQQ helps cells work more efficiently and produce more energy thereby helping the body have more energy.
"Successfully losing weight with MetabolicBoost – As a menopausal woman, my metabolism is not what it used to be.   For more than two years I would start each morning with a good breakfast without carbs, but by 10:30 AM I would start having craving and have to eat or my energy would crash.  After lunch, I would take a nap for an hour.  I would eat an appropriate dinner, but the cravings for snacks at night was impossible to resist.

I was at a loss for ever being able to lose weight or even if I did manage to lose a few pounds, in a few days they would be back on. Since I started using Metabolic Boost, I've been able to lose 15 lbs. and it has stayed off.   My need for sleep after lunch has greatly reduced and the cravings at night are gone.  I know I can reach my goal weight with the help of Metabolic Boost."

Dr. Glenda Rose,  New York
Metabolic Boost is a proprietary formula exclusive to Qgenics. At the core of this exclusive formulation is Cellinfusion™ Technology which increases absorption 3.4 times to provide maximum bioavailability and potency of the nutrients at the cellular level to achieve results.
Do you want a Healthier Metabolism?   Try Metabolic Boost   Learn more and Order (Includes more success stories)
STILL HAVE QUESTIONS? EMAIL AND GET YOUR QUESTIONS ANSWERED.
Sign up to receive the MCVitamins Newsletter!
Up-to-date info on the latest health-related news happening in the world
(available in English only)