"Real Energy" Energy Drink
An Energy Drink Based on Good Nutrition; An Energy Drink that Keeps You Going!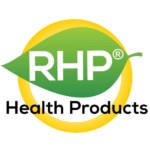 "Real Energy" Energy Drink
A New Safe Way to Boost Energy
This Energy Drink Concentrate that gives immediate energy, and replenishes the body's own natural ability to create energy. It handles energy problems on an immediate and long term basis.
The problem with most energy drinks is they create a short spike of energy and then they drop you off a cliff leaving you feeling more tired than when you started! "Real Energy" keeps you going!!
Increase Your Energy Level Naturally!
"Real Energy" Drink Benefits: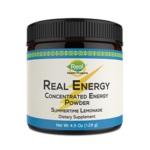 Instant energy with no sugar spike
Won't raise blood sugar levels
Sustained energy boost for up to 5 or more hours
Increased mental clarity and physical performance
All natural energy-boosting ingredients
No harmful sweeteners
Convenient concentrate containing
NO letdown! NO tiredness!
New Energy Technology
RHP™ Real Energy's natural energy boosting ingredients were formulated not to pull from the existing energy reserves of the body (as most other energy products do), but to support the body's natural energy production at the cellular level.
This leaves you with an abundance of energy as well as heightened awareness.
Who Needs "Real Energy"?
A Natural Remedy for Low Energy
Anyone that gets tired during the day
People that work late or work night shifts
Individuals who drink too much coffee or tea
Anyone that does strenuous work
College students or people that need to study
People who work out
Athletes or professional trainers
Truckers or drivers that need to stay awake
Elderly people who want to be more active
People who need to stay alert such as Police, Firemen and Security Guards
Family, friends or co-workers who need more energy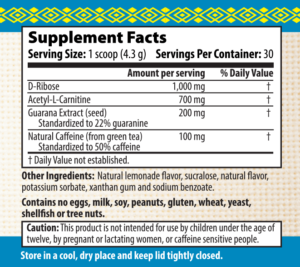 "Real Energy" Ingredients in Energy Drink
"Real Energy" Drink is the only natural energy drink available that supports both the energy utilization as well as the energy rejuvenation functions of the body in this unique nutrient combination.
RHP® Real Energy comes in a convenient 4.5 ounce jar which provides 30 servings. You simply mix 1 scoop (4.3 g) with 6 to 10 ounces of water to taste. It has a pleasant lemony taste.
Each serving contains:
Guarana Seed Extract
Guarana is an herb from the Amazon Rain Forest that is well known for its safe energy producing capabilities.
Natural Caffeine (from Green Tea Leaves)
The caffeine in RHP® Real Energy is extracted from green tea leaves. Green tea has been used as a natural and safe stimulant for hundreds of years.
Acetyl-L-Carnitine
This is an amino acid (a building block for proteins) that is naturally produced in the body. It helps the body produce energy at the cellular level. One of the main roles of acetyl L-carnitine is to carry fatty acids from the cytosol (the main body of the cell) into the mitochondria (the energy-producing furnaces within cells) so that these fats can be burned for energy.
D-Ribose
The active ingredient d-ribose supports your body's core energy and helps keep it charged. Though your body produces ribose naturally, it does so slowly. Evidence indicates supplementing with ribose helps to restore and maintain your body's energy reserves.
As a result of using "Real Energy" drink, your energy level does not go below the base line from which you started and therefore doesn't result in a hypoglycemic (tiredness) effect.
For how these ingredients work: Real Energy Ingredients and how they Work
"Real Energy" drink comes in a delicious natural lemony flavor.
Testimonials
"I would like to give you high praise for the Energy Formula. I work nights, I am 63 and lately since the weather is nicer, the neighbors are waking me up daily having a great time in the yard. I haven't gotten 8 straight hours of sleep for the last 10 days. I have been taking the Formula since Monday 4/26 and it really works. It doesn't make me jittery like coffee but gives me a boost and alertness that really help me at work. My job is busy and stressful, it takes all my energy. I take a bit more than 1/2 cap, more like 3/4 because I am a large woman. Hopefully, I will feel energetic enough in the near future to start an exercise program."
From Carolyn J. W.  in Indiana
"I want to thank you guys for your help with everything for my health. However, I want to extend an extra Thank You for this energy drink. I have found it to be a life saver for a number of reasons. Not only have I stopped drinking my triple shot of coffee which cost me at least fifty dollars a month, but I do not have the jitters the coffee causes now.
As a result of an auto accident I now have Diabetes Type 2. With pain medication and further problems with my injuries I have found it very hard to get up in the morning and stay up to complete basic household duties. When I was told about this energy drink I was very skeptical because with all the vitamins I take with pain medications nothing has been a source of lasting energy. I was drinking a triple shot coffee drink. There were times this not only did not work but it never lasted for 8 hours. I have used this energy drink for about a month now and it keeps me on an even energy level without jitters. I have also been able to take a nap if need be and when I woke up I still have energy. I am amazed this energy drink is so effective and as it does not cause jitters I am elated with the results."
Darrell P
"This is a fantastic healthy way of improving your energy! I'm able to keep a level (without dropping) energy level throughout the day, and I noticed that my energy levels improved during my 30 minute treadmill run.
"I don't get any jittery sensations from this product at all, and I have experienced improved mental clarity.
"I would also say that with an estimated 32 servings per bottle it saves you in the long run, being that other energy drinks give you a crash after a while, and it causes a dependency on it, so a person drinks more throughout the day which equals more money spent."
From Jose V. in California
See more Real Energy Testimonials
How Real Energy Ingredients Work
100% Natural
"Real Energy" is 100% natural and safe.
Because of this it can be taken on an empty stomach.
It will not adversely interact with any medications.
RHP® Real Energy comes in a convenient 4.5 ounce jar which provides 30 servings. You simply mix 1 scoop (4.3 g) with 6 to 10 ounces of water to taste. It has a pleasant lemony taste.
"Real Energy" is $30 per Jar and should last around a month.
So if you are tired and out of energy this is your chance to put that energy back into your life again, guaranteed or your money back!
Made in USA
STILL HAVE QUESTIONS? CALL 818 252-1038 OR EMAIL AND GET YOUR QUESTIONS ANSWERED.
To learn more
To order
Choose your secure Order Options below:
Order the RHP® "Real Energy" Drink via our Secure Server (all types of credit card accepted)
Or Pay via PayPal on this same Order Form
Or call to order 818 252-1038
The cost also includes any assistance you might need to ensure that you get the best possible results. (
Sign up to receive the MCVitamins Newsletter!
Up-to-date info on the latest health-related news happening in the world
(available in English only)