Real Health Products® Sleep Support Formula Product Information
From a nutritional perspective, several research studies have shown certain vitamins, minerals, and botanical extracts to be effective natural sleep aids that help people fall asleep and stay asleep through the night.
Now you can effectively manage your sleeplessness naturally.
The RHP Sleep Support Formula is a unique combination of vitamins and minerals (in a new whole food form), that provides your body with the nutritional support it needs. There are also specific botanical extracts that work together with the vitamins and minerals to help reduce and manage your sleeplessness.
RHP® Sleep Support Formula
Calcium and Magnesium
Magnesium is essential to good health. It helps maintain normal muscle and nerve function, keeps heart rhythm steady, supports a healthy immune system, and keeps bones strong. The body works very hard to keep blood levels of magnesium constant.
Excess amounts of coffee, salt, alcohol and sugar often deplete one's levels of magnesium.
Calcium is an important nutrient your body needs every day. The correct way to take magnesium when taking supplements, is to balance it with your calcium intake, because these two minerals act together as a synergistic team.
Unless calcium and magnesium are properly balanced, magnesium becomes depleted
(too much calcium can itself, deplete magnesium levels). This can result in an inability to quickly recover from stress and can itself be a source of stress.
Deficiencies of these minerals can contribute to nervous tension, an inability to relax, and more difficulty in getting a good night's sleep.
Dr. Balch states in his book Prescription for Nutritional Healing:
"A lack of the nutrients calcium and magnesium will cause you to wake up after a few hours and not be able to return to sleep."
Vitamin D3
Vitamin D3 (often referred to as Vitamin D) is an important nutrient and your body requires it to absorb calcium. Without enough vitamin D, one can't form enough of the hormone calcitriol (known as the "active vitamin D"). This in turn leads to insufficient calcium absorption from the diet.
This often overlooked vitamin is actually manufactured by the body if we get enough sunshine, exercise, and calcium in our diet. Most of us do not get enough exercise and fail to eat calcium rich foods like vegetables and/or dairy products, or oily fish. As a result, many of us remain deficient in vitamin D throughout much of our lives.
Tart Cherry
(Prunus cerasus)
Tart cherry (also known as Prunus cerasus) has been used by healers and physicians for hundreds of years. Europeans in the 15th and 16th century kept a "confection box" (confection: a medicinal preparation of seeds, spices, and herbs mixed with sugar, syrup or honey). Among the contents of these boxes were cherry seeds.
The tart cherry used in the RHP™ Sleep Support Formula is an extract of the Montmorency cherry, one of the world's finest sources of natural melatonin.
Melatonin is an important hormone that triggers sleepiness. The amount of this hormone in the blood varies throughout the day and is at its highest at night-time.
Tart cherry is also one of the richest known sources of a class of antioxidants called anthocyanins, which are potent plant antioxidants that support cellular, cardiovascular and joint health.
L-Ornithine and GABA
L-Ornithine is an amino acid that has beneficial effects on stress and sleep and has been shown to reduce physical fatigue.
GABA (gamma-aminobutyric acid) is another amino acid that is a neurotransmitter and benefits the body by helping it to relax.
Passionflower
(Passiflora incarnata)
Passionflower (also known as Passiflora incarnata) has been the subject of much scientific research.
Passionflower is widely used by herbalists and natural health practitioners around the world. Passionflower contains active ingredients that help to relieve anxiety, relax and calm the individual. This acts to reduce day-to-day stress that can often make it harder to get a good night's sleep.
RHP™ Sleep Support Gets Results
Each of these safe non-habit forming ingredients support physical relaxation and calmness. Combined, they create a very effective way for you to experience a restful night's sleep that can be safely used as often as needed.
We're so sure about the quality and effectiveness of the RHP™ Sleep Support Formula, and that you will experience the results you want, that we offer a 90-day money-back guarantee. A bottle containing 60 tablets is now $33.70.
Order your RHP™ Sleep Support Formula below and experience the results for yourself!
The RHP Sleep Support Formula comes with a 90-day money back guarantee on your initial order. This means that you can try the product and if not completely satisfied return it for a refund of the product price.
Manage your sleeplessness naturally. Order your RHP Sleep Support Formula and experience the results for yourself.
Made in USA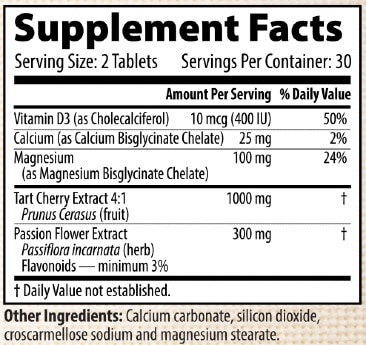 STILL HAVE QUESTIONS? CALL818 252-1038 OR EMAIL AND GET YOUR QUESTIONS ANSWERED.
Ready to Order?
Choose your secure Order Option below:
Order the RHP® Sleep Formula Securely
Or Order by Phone: (818) 252-1038
Email us . We want to be able to be in contact, so we can ensure you get the best possible results.
Sign up to receive the MCVitamins Newsletter!
Up-to-date info on the latest health-related news happening in the world
(available in English only)