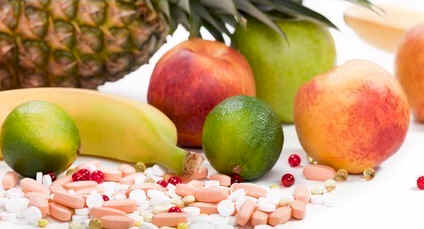 We don't recommend any of the synthetic vitamins that are actually just chemicals (made in the laboratory). The body just doesn't recognize them as food and doesn't assimilate them or use them.
In terms of nutrition, there's a huge difference between "junk" vitamins and the higher end, natural whole food vitamins. And while most low-end consumer vitamin companies rely on the junk, energy-stealing forms of these vitamins, quality vitamin companies use the higher-end (and more expensive) premethylated forms.
Cheap vitamins (non-methylated) will use standardized "USP" vitamins such as "Thiamin USP (thiamin HCL) vitamin B1." That's the chemical form of vitamin B1, and it actually requires a donation of cellular energy from your body before you can use it. The form of B12 in cheap vitamins is cyanocobalamin.
Quality vitamins, on the other hand, will use the "coenzyme" forms of the B vitamins. These will often be listed with the word "coenzyme," and the form of vitamin B12 will appear as either methylcobalamin or hydroxycobalamin. That's a sure sign of a high-end, quality multivitamin.
We at MCVitamins.com are always looking for vitamins that are made from whole foods meaning none of the cheap fractionated (partial) pieces of nutrition, but the whole thing – with all the co-factors needed – just like it exists in nature. When they are in a food, your body uses the nutrition.
There are other vitamins that are also made of whole foods and when we find them we will post them and how to find them.
Excellent Vitamin Companies
Qgenics 
Targeted Nutrition at a Cellular Level – Information backed by Scientific Evidence
Breakthrough in Understanding Metabolic Syndrome
Metabolic Syndrome – metabolic disorder, deficiency or imbalance – happens at a cellular level. Metabolism is a process that occurs at a cellular level where the cell creates energy from the foods you eat.  Well-functioning cells create a healthy body, one that meets the challenge of daily living well. When that process goes awry the result is impaired functioning and non-optimum health conditions.
You can see their products here Qgenics
Camelicious – Find out the benefits of  Camel Milk
Spectrum Care+
Formulated to support metabolic, gut and neurological health.
Dr. Berg's Nutritionals
Dr. Eric Berg, D. C. has excellent products that help you achieve health.
We found his products deliver and are all whole food. He has support for the glands and some of the best protein meal replacements, etc.
Seagate Products
These guys have their own farms, both on land and on the sea.
Seagate is a very unique natural foods company based in San Diego, California producing raw materials from their fishing and organic farming operations. They now own and operate a large modern factory producing over 25 health foods, supplements, vegetable concentrates, cosmetics, potent natural homeopathic remedies, and even organic fish fertilizer. Since it began operations in 1981, Seagate represents the health food industry of 30 years ago, when specialized companies produced their own raw materials and processed their own ingredients in an effort to make the best possible products in the industry.
Some of Seagate products are Olive Leaf Extract to build the immune system, and Seagate Olive Leaf Throat Spray
Standard Process
This is a statement by the Dubois family of Standard Process:
Dr. Royal Lee, founder of Standard Process, believed that "the whole is greater than the sum of its parts." We demonstrate our commitment to this philosophy through the formulation and production of our whole food supplements. From the time the seeds are planted until the products are shipped to your door, we are directly involved in the entire process. Every part of this process relies on our dedication to offering the safest, most effective, highest quality products.
For more than seventy years, Standard Process has invested in the whole person, product, process, planet, and posterity. Because of this commitment, we are a unique supplement manufacturer. We have certified organic farms that grow the most wholesome ingredients. By using exemplary quality control standards in our high tech manufacturing facility, we ensure that our time-proven formulas are consistently produced. Also, our newly constructed Research and Development facility is working to validate Dr. Lee's whole food philosophy.
At Standard Process, they believe that education is key to helping people better understand why nutrition is so important to maintaining health. This has long been the philosophy of MCVitamins.com.
Per Standard Process, they state:
Given proper nutrition, the human body has an amazing ability to heal itself. If properly fed and given the right nutrients, the human body is designed to repair itself. To do so, we need to eat a healthier diet, exercise, and take high-quality supplements made from whole foods. Whole food supplements supply our bodies with nutrients we are not getting from our diet, all the vitamins, minerals, trace minerals, and phytonutrients that foods possess in a way that nature intended, in a whole food form.
Only whole food supplements complete the nutritional gap
Whole food supplements are made by concentrating foods for use in supplements. When processed correctly, they supply a multitude of the plant's components. Foods provide nutrients that work synergistically. They work together to provide you with optimal nutrition for good health.
A word of advice: Not all whole food supplements are the same
Many whole food supplements available in today's marketplace range in quality. Companies are riding the wave of supplement popularity rather than focusing on commitment and quality.
See Standard Process
Remember when you are using a whole food supplement like those created at Standard Process, you are getting a supplement that the body can absorb and use. Unlike laboratory supplements that you may absorb 1%, these supplements have all the co-factors that food has so that the body can use them.
STILL HAVE QUESTIONS ON ANY WHOLE FOOD SUPPLEMENT? EMAIL AND GET YOUR QUESTIONS ANSWERED.
Sign up to receive the MCVitamins Newsletter!
Up-to-date info on the latest health-related news happening in the world
(available in English only)