How the Gut-Brain Axis Can Affect Your Health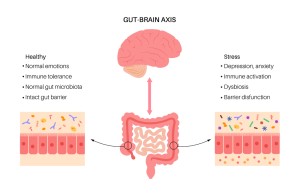 Medical science has recently discovered that a root cause of particular health issues involves the gut and the Gut Brain Axis.
The Gut-Brain Axis is the communication system between the brain and the trillions of bacteria and enzymes living within our intestines – our gut microbiome.
The gut microbiome weighs about 2 kg and is bigger than the average human brain. It's an active community of trillions of bacteria and microbes.
The gut microbiome is a crucial part of this gut-brain connection. It develops simultaneously with the central nervous system and has a powerful influence over many different mental processes.
Multiple studies have shown that the composition of our gut bacteria has a profound impact on mental health and the functioning of our nervous system.
Gut microbes make a number of chemicals that affect how our brains function. Gut microbes play a crucial role in brain development and the flow of signaling information across the central nervous system.
As neurotransmitters synthesized by the brain are involved in regulating mental health, emotions, behaviors, and mood, a disrupted gut microbiome can play a significant role in neurological conditions.
"The gut microbiome is the most important scientific discovery for human healthcare in recent decades," says James Kinross, a microbiome scientist and surgeon at Imperial College London. "We discovered it – or rediscovered it – in the age of genetic sequencing less than 15 years ago. The only organ that is bigger is the liver."
Professor Jack Gilbert, an award-winning microbiome scientist at the University of California San Diego and author, has stated, "Over the last 80 years and since the dawn of antibiotics, there has been a multi-generational loss of microbes that appear to be important for human health. They are passed from mother to child (during birth, via breast milk and skin contact) throughout the generations, but at some point, in the last three or four generations, we lost some. We're not entirely sure if the cause was our lifestyle, our diet, cleanliness in our homes or the use of antibiotics. We're missing certain immune stimulants that people in the developing world have plenty of."
The gut's microbiome is critical for short-term and long-term health. Given all the new data about the importance of the gut microbiome and the gut-brain axis, there are steps you can take to ensure you maintain a healthy gut microbiome.
Studies suggest having a diverse population of gut microbes is directly associated with better health.
The Canadian Digestive Health Foundation suggests the following food should be eaten

"Make sure to eat your vegetables!
"Especially the leafy green ones. Vegetables are loaded with fibers which cannot be digested by people but are consumed by the good bacteria in your gut. It has been observed that people who follow a diet rich with fruits and vegetables are less likely to grow disease-causing bacteria. Some great examples of vegetables that feed your microbes are:
Leeks
Onions
Asparagus
Broccoli
Spinach.
Stock up on dietary sources of prebiotics

"Prebiotics are food for your microbiome! It's important to feed these little guys to give them the energy they need to complete their very important task of managing your enteric (relating to the intestines) nervous system.
Here is a list of dietary prebiotics that should be staples in your home kitchen:
Apples
Leeks
Onions
Cocoa Extracts
Garlic
Bananas
Asparagus
Nuts
Seeds
Red Wine Extracts
Root Vegetables
Beans
Lentils
Chickpeas
Green Tea Extracts.
"Fermented foods are gut friendly."
"Fermented foods are another great source of probiotics. The crowd favorite is yogurt, however, if you're going to be eating a lot of yogurt, make sure that it is sugar-free! There are several other options that are a great source of good bacteria. Kombucha is becoming a very popular source of probiotics. You can also eat things like pickles, kimchee, and kefir to ensure that you're getting enough live cultures to keep your gut healthy and happy."
Supplements Can Help, Too
RECOMMENED (Products we researched and found to do what they say they will do)
Support for the Gut Brain Axis
This Metabolic Formula contains a wealth of plant-based nutritional support to optimize your metabolism, including a probiotic blend.
MicroFLora Mood & Mind Formula 
Why do we recommend this product?    Find out with this Metabolic Formula for Improving Metabolism
STILL HAVE QUESTIONS? EMAIL AND GET YOUR QUESTIONS ANSWERED.
Sign up to receive the MCVitamins Newsletter!
Up-to-date info on the latest health-related news happening in the world
(available in English only)