Advanced Nerve Support Formula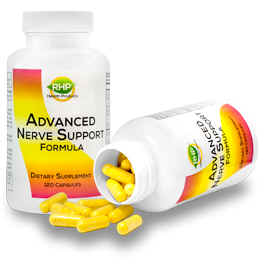 There are a number of factors that can affect the health of your nerves. The different things in our current environment are greater than ever.
This is why the RHP® Nerve Support Formula a vital necessity in supporting the health of your nerves.
For many people, the ingredients in the RHP® Nerve Support Formula provide enough nutritional support to get them the changes and results they are looking for.
Some people may need additional nutritional support to get those same changes and results.
The RHP® Advanced Nerve Support Formula was made for them.
RHP® Advanced Nerve Support Formula
RHP® Advanced Nerve Support Formula contains vitamins, fatty acids, amino acids, and botanical extracts that have been found to support nerve health.
Benfotiamine is better absorbed and retained than most water-soluble B1 vitamins. Methylcobalamin can be taken orally and evidence indicates that it is better absorbed and used more efficiently than cyanocobalamin, the more common form of vitamin B12.
NEW! Additional Ingredients Included in the
RHP® Advanced Nerve Support Formula
Folic Acid (B9) This is especially important to a great number of people who have difficulties using this vitamin (B9) from food or supplement. A lot of formulas don't have folic acid or even folate in their ingredients. Folic acid is necessary to activate the B12 which is so important to nerve health.
Vitamin K supports the central and peripheral nervous systems.
In addition It supports healthy metabolism, the vascular system (arteries & veins) and a healthy heart.
Vitamin K2 is normally present in grass-fed butter, cheese and egg yolks from chickens that eat grass. Due to difficulty in getting K2, it often becomes necessary to enhance your diet with a supplement.
Acetyl L-carnitine, R-Alpha lipoic acid and turmeric help protect nerve cells.
Together, these ingredients provide the most comprehensive nutritional support for the nervous system.*
*Studies
Acetyl-L-carnitine in the treatment of peripheral neuropathic pain: a systematic review and meta-analysis of randomized controlled trials.
Differential efficacy of methylcobalamin and alpha-lipoic acid treatment on symptoms of diabetic peripheral neuropathy.
Advanced Nerve Support Ingredients
The RHP® Advanced Nerve Support Formula is a product for those people who want to build and support healthy nerves.
We're so sure about the quality and effectiveness of the RHP® Advanced Nerve Support Formula, and that you will experience the life changing results, that we offer a 90-day money-back guarantee. A bottle containing 60 capsules is now $52.70.
STILL HAVE QUESTIONS? Call 818 252-1038  OR EMAIL AND GET YOUR QUESTIONS ANSWERED.
Learn more and to order:
Sign up to receive the MCVitamins Newsletter!
Up-to-date info on the latest health-related news happening in the world
(available in English only)