Chemotherapy Side Effects Treatments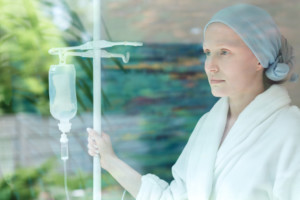 What is Chemotherapy?
Help for Chemotherapy
More Information on Chemotherapy
What is Chemotherapy?
Chemotherapy is defined as anti-cancer drug treatment which is used to destroy cancer cells or stop them from spreading. This treatment often causes many debilitating and unpleasant side effects, and each person who undergoes treatment reacts differently. Often some people experience many side effects while others may only experience a few. Side effects are usually only short term and tend to disappear when treatment is stopped.
The main areas of the body that are affected during treatment include the digestive system, the lining of your mouth, hair and bone marrow. Healthy cells in these body parts are affected because they divide and grow quickly and can repair the damage caused by chemotherapy.
Possible side effects include
Reduces the number of blood cells in the bone marrow
Anemia
Nausea and vomiting
Hair loss
Diarrhea and constipation
Loss of appetite
Bleeding and bruising
Sore mouth leading to ulcers
Fatigue
Skin and nail changes
Chemotherapy can be used to treat on its own to treat certain types of cancer but may also be given in combination with other treatments such as surgery, radiotherapy, biological therapies, or hormonal therapies. The main aim of chemotherapy treatment is to stop the cancer cells dividing and reproducing.
It may also be given after surgery to destroy any remaining cancer cells or to shrink and control cancer to minimize symptoms. This type of treatment generally depends on the type of cancer that you my have, where the cancer began in the body, the appearance of the cancer cells under the microscope and whether the cancer has spread to other parts of the body.
Types of chemotherapy drugs
Intravenous chemotherapy (drugs are injected into a vein)
Oral chemotherapy (drugs are given orally in the form of tablets or capsules)
Intramuscular injection (drugs are injected into a muscle)
Subcutaneous injection (drugs are injected under the skin)
Intrathecal chemotherapy (drugs injected into fluid around the spine)
Intracavity chemotherapy (drugs are injected into certain body cavities such as bladder or pelvic cavity)
Chemotherapy creams (applied to certain areas of the skin)
Treatment is given in a series of sessions which is followed by a rest period – this is known as a cycle of treatment.
Help for Chemotherapy
Natural remedies
Natural herbs and holistic treatments may also be used in combination with conventional medication to help reduce the side effects of chemotherapy. Herbal and homeopathic remedies have been known to support the body holistically, strengthen the immune system and regulate blood cell counts.
Two well-known herbs such as Hypoxis Rooperi (extract of African Potato) and Mentha Piperita acts as a natural convalescent, supportive tonic and are beneficial to the immune system. Other powerful herbal ingredients such as Crataegus Oxyacanthoides, Viscum Album and Schizandra Sinesis support healthy circulation, regulate and maintain healthy energy levels, and help protect against toxins and cell damage. (Don't forget to check with your pharmacist to find o out if these herbs with conflict with the drugs you are taking – See Will it Interfere with what I'm Taking 
More Information on Chemotherapy

Tips to cope with chemotherapy
Learning to cope with and manage cancer as well as experiencing chemotherapy is not only difficult but also emotionally stressful. Follow these tips to help you deal with the side effects:
Eat small, well balanced meals that contain proteins and calories to help you gain weight and keep your strength up
Try eating foods such as soups, fruit juices, weak tea, popsicles or jelly that will not nauseate you
Get adequate rest – at least eight hours of sleep each night as well as short naps during the day
Exercise regularly by walking, cycling or doing yoga but remember not to overdo it
Learn to relax and do things that calms you like reading, listening to music or watching a movie
Use anything that will reduce stress – see acupressure
Accept help and support from family and friends
Speak to someone about what you are feeling and going through – this may be a family member, or friend.
Constipation 
Read:  Causes and Home remedies for Constipation
Preventing Nerve Damage
Alpha Lipoic Acid can be beneficial when undergoing Chemotherapy as it will help to prevent nerve damage which is a common side effect.
See Alpha Lipoic Acid/Acetyl L-Carnitine
Fish oil may reduce weight loss during chemotherapy
Weight loss is a common side effect of chemotherapy in patients with progressive cancer. This weight loss can negatively impact the patient's ability to continue with chemotherapy and may decrease survival. In a number of studies, incorporating fish oil containing DHA and EPA into the diet have suggested an increase in survival probably through reduced weight loss and protein wasting. However, three large clinical trials failed to demonstrate a clear benefit of fish oil preserving body weight in cancer patients. Confounding factors in these studies included uncertain compliance and that fish oil supplementation was started late in therapy, after the patients were already debilitated.
For complete Article – Fish Oil and Chemotherapy
For a good quality Fish Oil high in DHA and EPA
Nausea
Try Ginger Tea
Anemia
MegaFood Blood Builder is the number one selling whole food iron supplement designed to help maintain healthy iron levels and red blood cell production.
Blood Builder remains to be one of most highly recommended products because it works well for individuals who need to supplement the iron in their diet.
Blood Builder is crafted with nourishing FoodState Nutrients, which provide the recommended daily requirements of non-heme iron, folate and B12. It also contains vitamin C to enhance iron bioavailability and utilization plus organic beet root, a natural source of deep-red pigments traditionally known to nourish, purify and strengthen the blood.
MegaFood has received the Non-GMO Project Verified seal from the Non-GMO Project. The Non-GMO Project is a third party certification program that assures a product has been produced according to consensus-based best practices for GMO (genetically modified organism) avoidance.
MegaFood Blood Builder Due to the toxicity of chemo, you should make sure this is okay to take while undergoing treatment.
And a supplement for Energy:
Read helping Neuropathy: Chemotherapy Neuropathy
STILL HAVE QUESTIONS? EMAIL AND GET YOUR QUESTIONS ANSWERED.
Sign up to receive the MCVitamins Newsletter!
Up-to-date info on the latest health-related news happening in the world
(available in English only)