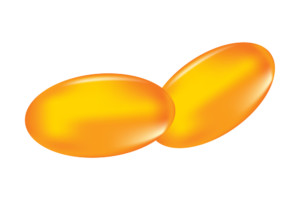 A Rich Source of Essential Omega-3 Fatty Acids to Support Immunity, Heart and Brain Health
Supports a healthy heart
Supports a healthy immune system
Supports a healthy brain
Supports healthy eyes
Helps fight inflammation
Supports healthy skin
Supports healthy blood pressure
Supports healthy lipid and triglyceride levels
Supports a healthy liver
A Natural Source of Health Promoting DHA and EPA Omega-3 Fatty Acids, Vitamin A and D
Are you struggling to consume enough seafood and other sources of omega-3 fatty acids each week to ensure you are getting their heart and brain health supporting benefits?
Want an easy way to get more health boosting omega-3 fatty acids (EPA and DHA) as well as vitamin A and D in your diet?
Dr. Berg's Cod Liver Oil provides you with a convenient, rich source of natural omega-3 fatty acids to support your immune system, heart, brain and many other research-backed health benefits.
Cod liver oil is an incredible source of health-promoting DHA and EPA omega-3 fatty acids, vitamin A, and vitamin D. This high-quality Cod Liver Oil contains zero harmful additives and has an extended shelf life because of the heatless drying technology used.
Additionally, this product includes purified bile salts to support nutrient digestion and absorption. Each bottle supplies 90 potent capsules.
Sourced completely from wild caught cod with no additives or synthetic vitamins, this cod liver oil is certified by the Marine Stewardship Council (MSC), the world's top certification standard for wild-caught, sustainable seafood.
Omega 3 fatty acids are essential fatty acids, meaning your body needs them and cannot produce them on its own.
Each serving of Dr. Berg Cod Liver Oil provides you with 94 mg of total fatty acids—including 44 mg of EPA (eicosapentaenoic acid) and 50 mg of DHA (docosahexaenoic acid) which are the two main omega-3s found in fish oil—as well as 118% of the recommended daily intake for vitamin A and 44% for vitamin D.
These are amazing, literally noticed improvements in eyesight and skin being more soft & smooth and less dry overall. Everything Dr. Berg explains that's good about cod liver oil is contained in this. You occasionally notice it's a little fishy but it's not excessive or bothersome, and the bile salts help with absorbing it so you actually get all of the product you take – QC
Support the health of your brain, heart, and immune system with Dr. Berg Cod Liver Oil Capsules.
Ingredients:
Vitamin A (from cod liver oil) 1062 mcg RAE 118%
Vitamin D (from cod liver oil) 8 mcg 44%
Total fatty acids 94 mg **
EPA (eicosapentaenoic acid) 44 mg **
DHA (docosahexaenoic acid) 50 mg **
Ox bile extract (45% cholic acid) 15 mg **
*Percent Daily Values are based on a 2000 calorie diet.
This Cold Liver Oil is:
☑️ A rich source of essential omega-3 fatty acids, including DHA and EPA
☑️ Sourced from wild-caught cod
☑️ Contains vitamins A and D for heart, eye, brain, and immune support
This unique formula uses a new heatless drying technology to preserve the nutrients and extend its shelf life far beyond that of other fish oils on the market!
MCVitamins will work with you on an individual-by-individual basis to help you get the results you seek. And don't be surprised if we contact you so we can check up on how you're doing and to see if we can help you to get things moving faster!
STILL HAVE QUESTIONS? EMAIL AND GET YOUR QUESTIONS ANSWERED.
Sign up to receive the MCVitamins Newsletter!
Up-to-date info on the latest health-related news happening in the world
(available in English only)