Cold Water Fish Oil Omega 3 – Nutrition is Essential to Life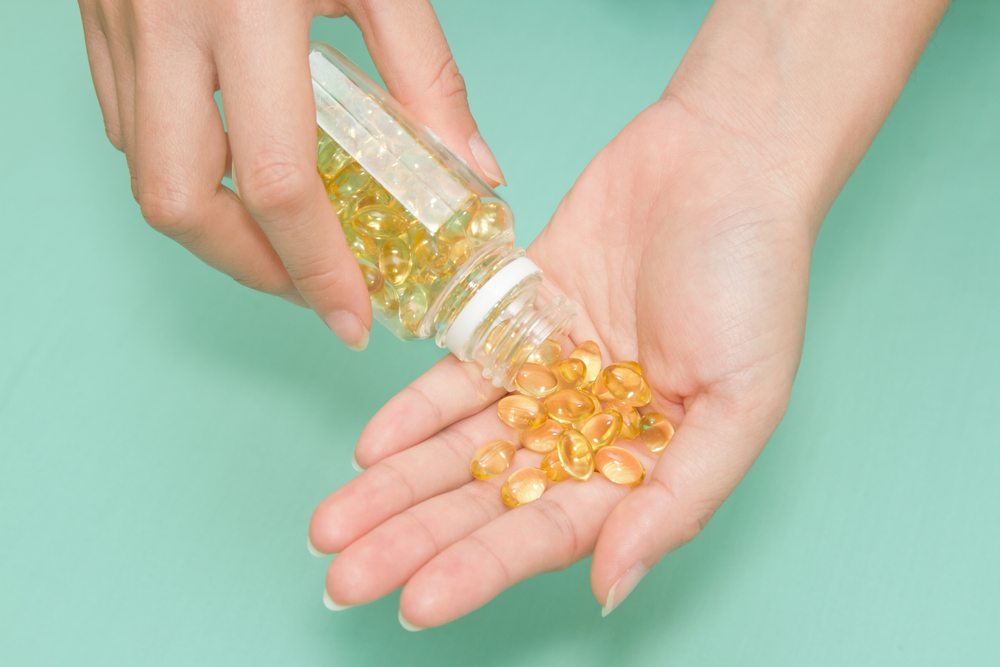 Omega 3 Essential Fatty Acids
Molecularly Distilled for Purity

High Quality – High Potency Omega 3s
800 mg EPA & 400 mg DHA
Enteric Coated – Citrus Flavor
– No Fishy Taste
There are numerous health benefits to taking fish oil that have been proven, almost conclusively, through studies and experiments by scientists, doctors and educational facilities.
The RHP Cold Water Fish Oil has the highest quality and purity fish oil available on the market. Promotes healthy cholesterol and blood pressure levels and provides many other health benefits.
Fish Oil Nutritionally Supports:
Normal Cholesterol Levels
Normal Triglyceride Levels
Normal Blood Pressure Levels
Normal Joint Function without Pain or Stiffness
Normal Eyesight
The Body's Ability to Reduce Inflammation
A Healthy Heart and Blood Vessels
A Healthy Brain
Healthy and Clearer Skin
There are three things you must consider when choosing fish oil to supplement your diet. These are the quality of the fish oil itself, the purity of the fish oil, and the Omega-3 content of the fish oil.
QUALITY
Fish oils are not all the same. The highest quality fish oil comes from cold water fish, and the best cold water fish oil comes from the deep cold waters off the Norwegian coast. If the label does not state "cold water," it is low quality warm water fish oil.
RHP® Cold Water Fish Oil gel caps are "enteric coated" so that they do not dissolve until they pass through the stomach and reach the intestines. That way there are no "fishy burps" or aftertaste.
PURITY
The oceans today have become dumping grounds and fish are becoming more and more contaminated from this pollution.
To ensure you receive the purest fish oil possible, Real Health Products offers fish oil that has been purified through a process called "Molecular Distillation."
Molecular Distillation is a process primarily used to concentrate the Omega-3 fatty acids, the primary active ingredients (EPA and DHA) in the fish oil, and remove contaminants.
This process is done in a vacuum system to ensure temperatures are well below the oil's normal boiling point. Doing this in a vacuum allows oils to be processed at the lowest possible temperatures, reducing the risk of damaging the oil through heat and oxidation.
This allows the now distilled fish oil and omega-3 fatty acids to be turned into a final product with extremely low levels of contaminants, far below industry standards, with a very high EPA and DHA content.
OMEGA-3 CONTENT
Scientists, nutritionists and healthcare professionals agree that fish oil is really beneficial to your health. It is one of the most important supplements you can take.
The higher the Omega-3 (EPA & DHA) content of the fish oil, the more it will nutritionally support and help your body to maintain normal body functions.
* Average fish oil has 600 mg (EPA & DHA) Omega-3s.
* Higher Quality fish oil has 800 mg (EPA & DHA) Omega-3s.
* RHP® Cold Water Fish Oil has 1500 mg (EPA & DHA) Omega-3s.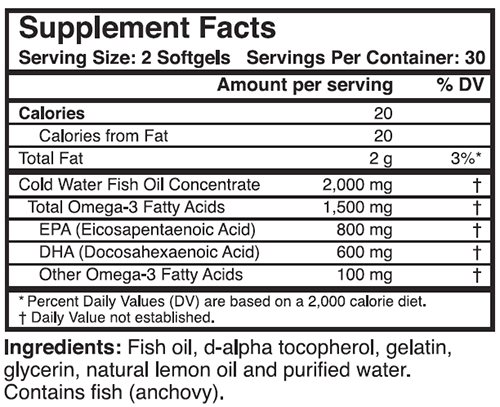 With two to four times the quantity of the primary active ingredients of fish oil, RHP® Cold Water Fish Oil is the most effective fish oil available anywhere. Made in USA
We're so sure about the quality and effectiveness of this product, that Real Health Products offer a 90-day money-back guarantee on your initial order. A bottle containing 60 gel caps (a 30-day supply) is now only $23.70.
STILL HAVE QUESTIONS? CALL 818 252-1038 OR EMAIL AND GET YOUR QUESTIONS ANSWERED.
To order and to learn more
options below:
Order the RHP® Cold Water Fish Oil via our secure server. (all types of credit card accepted as well as on line checks)
Or Pay via PayPal via the above Order Form
Or Call to order 818 252-1038
The cost also includes any assistance you might need to ensure that you get the best possible results. (Please tell me which purchase is yours so I can make sure I keep in touch and assist you).
Sign up to receive the MCVitamins Newsletter!
Up-to-date info on the latest health-related news happening in the world
(available in English only)