Joint & Muscle Therapy Cream with Arnica and MSM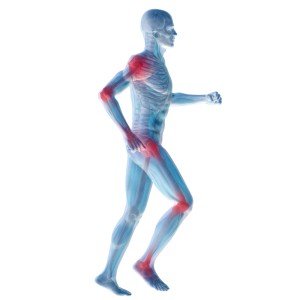 Dr. Berg Joint & Muscle Therapy Cream is an all-natural topical formula that absorbs deep into muscle and joint tissues to help reduce inflammation and oxidative stress.
It's made with natural ingredients that support healthy joints and muscles, including arnica, MSM, aloe, and St. John's wort. Unlike capsules and tablets that need hours to circulate in your bloodstream, Therapy Cream rapidly absorbs into your skin to provide instant joint and muscle relief.
Dr. Berg Joint & Muscle Therapy Cream is packed with high-quality ingredients for workout recovery, full-body relaxation, skin nourishment, and long-lasting pain relief.
Soothes achy joints and muscles
Minimizes free radical damage
Supports relaxation and sound sleep
Skin nourishment
Long Lasting pain relief
Plant Based ingredients
I ordered this for my 88 year old mom who has arthritis and some gout in her knee she on a number of meds wanted something natural I seen a difference in her mobility and stiffness and her pain is less and she sleeps better I showed the product to her doctor because it's all natural she asked my mom how is it she Said it gives her relief my mom uses it twice a day I also have used on my knee it's a great product it helps me in flexibility for walking especially upstairs……Judy B.
SOOTHES ACHY JOINTS AND MUSCLES
Arnica, turmeric, ginger, prickly ash, and MSM are some of nature's best anti-inflammatories. By lowering inflammation, they help reduce muscle and joint aches. Capsicum and St. John's wort also help block the transmission of pain, providing fast muscle and joint pain relief.
RELIEVES MUSCLE TENSION AND STIFFNESS
Arnica, eucalyptus, frankincense, and aloe contain powerful phytonutrients that help relieve tense muscles and stiff joints. Use Therapy Cream before exercise to help increase your flexibility and enhance your performance.
BOOSTS WORKOUT RECOVERY
Joint & Muscle Therapy Cream quickly absorbs into your skin and nourishes muscle tissue with powerful phytonutrients that reduce inflammation and promote healing. This helps speed up muscle recovery after tough workouts.
MINIMIZES FREE RADICAL DAMAGE
Dr. Berg Joint & Muscle Therapy Cream is loaded with natural antioxidant phytonutrients that help neutralize free radicals and reduce oxidative stress in muscle and joint tissues.
SUPPORTS RELAXATION AND SOUND SLEEP
Camphor and turmeric have unique soothing effects on nerves that help support muscle relaxation, reduce joint aches throughout the night, and promote better sleep. Added lavender oil helps calm the mind and body.
REDUCES MUSCLE SPASMS AND TWITCHING
Joint & Muscle Therapy Cream contains capsicum, a powerful extract from chili peppers that helps reduce muscle spasms and twitching. Apply it directly to spasming or twitching muscles for fast relief.
WHY THIS UNIQUE FORMULA PROVIDES EXCEPTIONAL JOINT AND MUSCLE RELIEF
Dr. Berg Joint & Muscle Therapy Cream is a comprehensive joint and muscle support formula that combines the power of 16 potent nutrients, including arnica and MSM. We use zero dyes, toxic parabens, or other harmful chemicals in this natural formula. Therapy Cream is highly concentrated with phytonutrient-rich ingredients for maximum results. There's no better way to accelerate recovery and relief, and we believe you'll be satisfied by the results. If you aren't happy with your purchase, take advantage of our 30-day money-back guarantee.
INGREDIENTS:
Aloe barbadensis (aloe vera) leaf juice*, vegetable glycerin, polyacrylamide and C13-14 isoparaffin and laureth-7, menthol, Arnica montana (arnica flower) extract, methylsulfonylmethane (MSM), Cinnamomum camphora (camphor) wood oil, Hypericum perforatum (St. John's wort) extract*, Citrullus colocynthis fruit extract, Symphytum officinale (comfrey) dry root*, Acorus calamus (calamus) dry root (and) Zingiber officinale (ginger) dry root*, Eucalyptus globulus (eucalyptus) oil, Zanthoxylum clava-herculis (prickly ash) extract, Mentha piperita (peppermint) oil, Lavandula angustifolia (lavender) oil, Curcuma longa (turmeric) root extract and propanediol, Boswellia serrata (frankincense) oil, Rosmarinus officinalis (rosemary) leaf oil, vitamins, Capsicum annuum fruit extract, phenoxyethanol, ethylhexylglycerin  *Organic ingredients
DR. BERG JOINT & MUSCLE THERAPY CREAM IS RIGHT FOR YOU IF…
You struggle with joint and muscle stiffness
You want to soothe aches and pains for deeper sleep
You need comprehensive support for workout recovery and performance
You want to support healthy joints and muscles with holistic ingredients
You experience signs of joint and muscle inflammationMCVitamins will work with you on an individual-by-individual basis to help you get the results you seek. And don't be surprised if we contact you so we can check up on how you're doing and to see if we can help you to get things moving faster!
STILL HAVE QUESTIONS? EMAIL AND GET YOUR QUESTIONS ANSWERED.
Sign up to receive the MCVitamins Newsletter!
Up-to-date info on the latest health-related news happening in the world
(available in English only)